This system arises from the hitherto unresolved technical problem that people with reduced mobility and their families regularly find when parking spaces reserved for them are occupied by other vehicles that are not authorised to use them, which makes parking difficult or impossible.
The system consists of 3 parts (see Figure 1):
1) Network of electronic beacons, installed buried in the ground under a 1 cm layer of concrete or asphalt. The ideal location is in the centre of the square, although they can be installed anywhere as long as the vehicle is parked on top of them.
Each beacon consists of an electronic board of free and low-cost hardware, a magnetic sensor and a long-life battery, all inside a watertight cylindrical container, to facilitate installation using a circular crown, and resistant to humidity.
The function of the beacon network is to detect vehicles parked on them and listen if their mobile phone with the application installed and an authorised user is issuing a parking authorisation. It also informs the database that its status has changed from free to occupied and the user who is parked on it if known.
2) Application for mobile devices, it has different functions, location of parking spaces for users with reduced mobility, automatic system of registration of spaces occupied by authorised persons, suggestion of new spaces and evaluation of old ones.
It is important to point out that the system not only offers parking spaces that have a beacon installed, but also offers spaces without a beacon. In the case of these spaces, we will not be able to know their occupancy status, but we will be able to know where we have parking spaces.
It will be necessary to register the user and enter the card number and the authentication photograph so that the authorisation administrator can check that the data is correct and mark the user as an authorised person.

3) Database in the cloud, it allows us to store in real time both the information of the beacons and the users. It also supports sending messages to the devices of registered users.

It is a database compatible with IOS, Android and web, so that it can be used from any platform, both mobile devices and web browsers.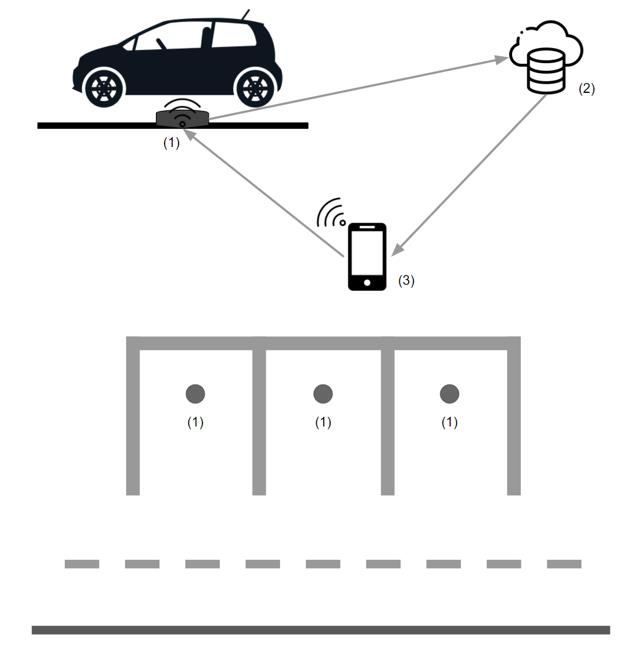 Figure 1: Parts of the system: Electronic beacon network (1), Mobile application (2) and Cloud database (3).