MAIN ADVANTAGES OF THE TECHNOLOGY
The main advantages of this technology are the following:
• The data will be completely anonymous.
• This data provides geolocalised information: complete, accurate and up-to-date.
• The information is adapted to the needs of the entity or company.
• It allows agile, flexible and reliable decision-making.
• Allows monitoring of urban problems and/or policies.
• Optimisation of the information to save time and cost in the analysis.
• Creation of detailed reports.
• Adaptation of graphics for web environments.

INNOVATIVE ASPECTS
The present technology systematises the collection of specific data from a series of social networks, relying on filtering and analysis methods that generate a series of products that do not exist on the market, as follows:
1) Economic activities
The identification of the supply of different economic activities, both in terms of their location and the sector or category to which they belong, as well as the citizen demand for these economic activities. Among other aspects: What is the supply and demand for economic and urban activities in a city, including by sector? (see figure 2), what is the concentration of certain activities, both in urban axes and in different clusters, what discontinuities in commercial activity are identified, and what is the best location for a certain business?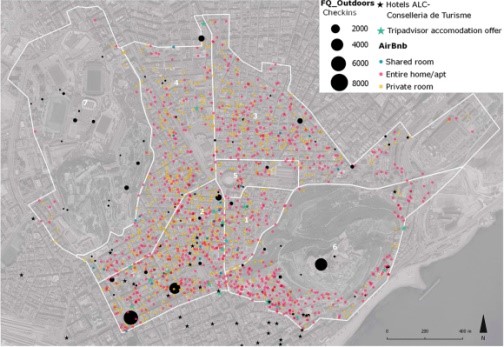 Figure 2: View of the supply of hotels and other tourist accommodation in the city of Alicante


2) Presence
The identification of the spatio-temporal presence of citizens according to their concentration in urban areas by time slots and days of the week. Thus, we identify where people are at night, during the day, during the week, during the weekend, which places and commercial activities are most frequented, or which urban public spaces are most frequented.



Figure 3: View of the distribution in days and hours of tweets sent in Alicante


3) Preference
Citizens' preferences for particular urban settings in both public and private spaces allow for the identification of What urban spaces and activities do citizens prefer? or What activities do they carry out in preferred urban spaces?



Figure 4: Presence by activity and time in the city of Valencia


4) Opinions
The opinions that citizens express, through the networks, allow us to know their positions on different urban areas or on certain issues on which opinions are exchanged: What do citizens think about urban spaces and economic activities in the city? or What do citizens think about a certain urban policy or specific issue?
All these analyses make it possible to carry out urban planning diagnoses and proposals for intervention in the city, taking into account the urban reality both from the point of view of economic supply and from the point of view of citizens' preferences in the city.