In order to solve the described problems, a new hybrid zeolitic material has been developed whose structure is formed by a combination of different zeolitic structural units belonging to, at least, two different zeolites. The zeolitic structural units are finite or infinite building units (in the form of a chain or layer) that make up the zeolite structures.
The zeolitic structural units that make up the hybrid material belong to, at least, two of the following types of zeolites:
• Faujasite (FAU).
• Beta (BEA).
• Invertedordenite (MFI).
• Chabazite (CHA).
• Mordenite (MOR).
• Zeolite type L (LTL).
• Ferrierite (FER).
• Linde type A (LTA).

The obtained hybrid zeolitic material is partially or substantially amorphous, i.e., at least 90% of its structure is composed of the unordered three-dimensional repetition of its unit cell.
This novel material has a significant mesoporous structure, i.e. it has a porosity between 0.05-1.5 cm3/g (see Figure 1) and, in addition to silicon and aluminium atoms, it can also contain other types of elements (e.g. gallium, iron, germanium and/or phosphorus atoms).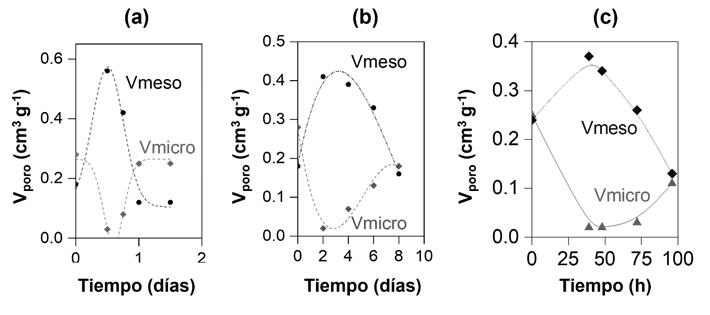 Figure 1: time evolution of the crystallinity (mesopore and micropore volume) of the hybrid material obtained by partial interzeolitic transformation at different hydrothermal treatment time periods and in the presence of: (a) a structure directing agent; (b) a structure directing agent and a cationic surfactant; and (c) a structure directing agent with surfactant properties.
Additionally, the surface of the hybrid zeolitic material can be functionalized by hydrophilic or hydrophobic treatment, or by reaction with alkoxylanes ending in amine, phosphine or carbonyl functional groups. In this way, the material is provided with a new chemical functionality, either by this functionalization, or because through the functional groups incorporated on the surface, other molecules, nanoparticles or metals are anchored, generating new physicochemical properties, thus increasing its industrial applications.
To obtain these innovative hybrid materials, the following synthesis strategies have been proposed:
A. Partial interzeolitic transformation:
It consists of converting, partially, the structural units of one type of zeolite into structural units of a different zeolite. For this purpose, the following steps are carried out:
1) Mix, at least, one zeolite with a structure directing agent in a basic solution. Additionally, a cationic surfactant can be introduced to control the size and volume of the pores in the resulting hybrid zeolitic material, although the structure directing agent can also has surfactant properties.
2) Subject the above mixture to a certain temperature (below 220°C) for a specific period of time.
3) Finally, the zeolitic hybrid material obtained can be filtered, washed, dried and calcined. It could also be mixed with a binder (e.g. clay, alumina and/or silica) by extrusion or flash drying.
With this method, it is achieved that, at least, 90% of the resulting hybrid zeolitic material comprises zeolitic structural units different from those of the original starting material (see Figure 2).
B. Partial dissolution of several different zeolites and subsequent precipitation:
This method comprises the following steps:
1) Obtaining a set of zeolitic structural units by partial and independent dissolution of, at least, two different types of zeolites in a basic aqueous solution at a certain temperature for a specific time.
2) Mixing the zeolitic structural units obtained in the previous step.
3) Adjust the pH to a certain value.
4) Add a precipitating agent.
In B method it may be necessary to separate the structural units obtained (either from partially dissolved zeolite residues or from zeolite fragments that may have formed) by centrifugation, filtration or decantation, among others.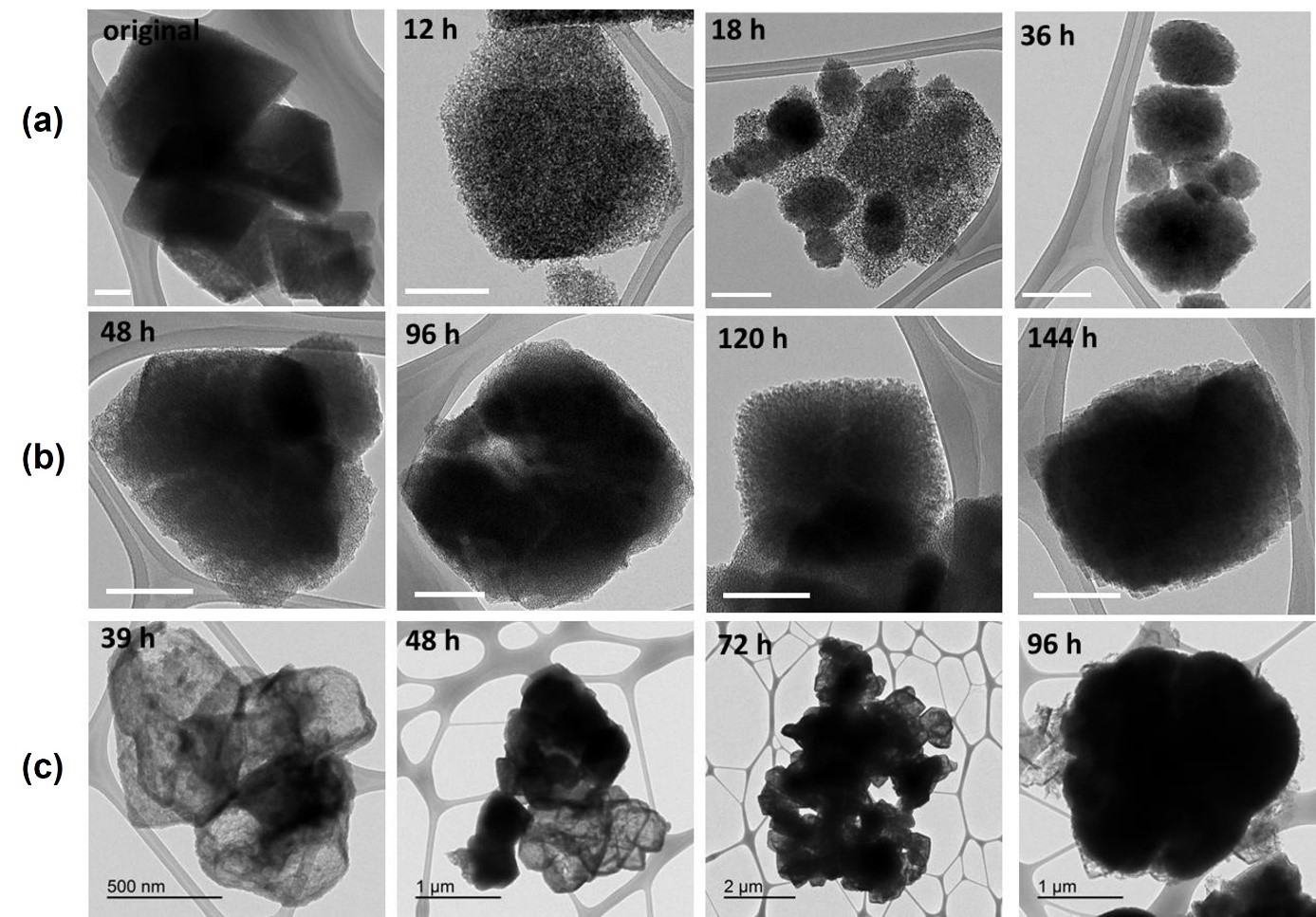 Figure 2: Transmission Electron Microscopy (TEM) images of the hybrid zeolitic material obtained by partial interzeolitic transformation at different hydrothermal treatment times.