Control time is a common control procedure in companies that have a relatively large volume of workers. To manage this marking there are different systems that allow the worker to record the time of entry and exit to their workplace.
These systems require the performance of some voluntary action by the worker. This can cause errors in the markings, forgetfulness, omissions and unnecessary losses of time in workers' activities.
So far, no solution has been developed that allows this process to be carried out in an unassisted and transparent way for users, making the marking automatically when joining the workplace.
The solution proposed consists of the use of technological means to carry out the time stamp in an unassisted and transparent way for the workers. For this, the users' own devices with wireless connection capabilities are used to identify and register the workers.
The system designed is capable of connecting to mobile devices and identifying each user when they enter or leave their workplace. The system sends information to a centralized unit that collects the information of all the workers and processes them, keeping the complete attendance control of the company.
The technology consists of a distributed system composed of the following elements:
• Worker's Device. These are the devices carried by the workers, mainly intelligent mobile phones, which allow the identification of the user at the time of entry and exit of their work station.
• Set of sensor elements. They are sensors that are placed in the control areas through which workers pass and their devices are detected.
• Transceiver. Elements that collects the data from the set of sensor elements and sends them to a remote server in the cloud for analysis and processing.
• Cloud server. The server is in charge of collecting the identification and presence sent by the transceiver and executes the presence control applications. The business layers, the persistence layer, and the administration and control layer are located on this server, as well as all associated services.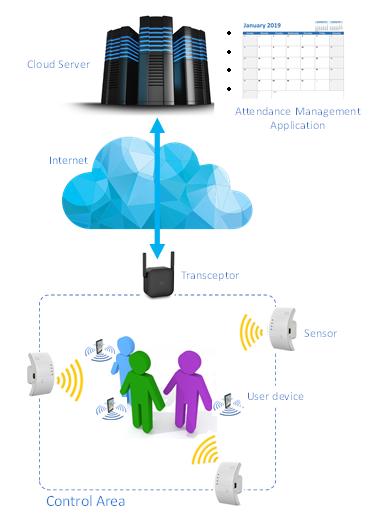 Fig 1. General diagram of the system
The control zone is the zone in which the presence of the worker is monitored. This zone of control will be established by wireless communication technology, typically Wi-Fi communication.
The deployment of this technology can be carried out in two possible scenarios. In one of the scenarios, control zones are created at the accesses to the workplace. In this way, the entrances and exits of the workers can be known. The second scenario refers to the possibility of monitoring the activity of the workers, locating the position of each worker and therefore recording the dedication of the worker to each of the tasks.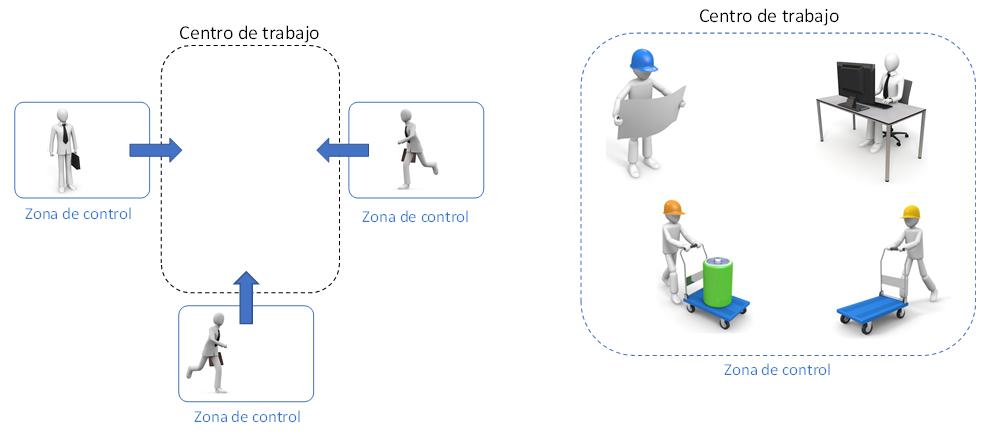 Fig 2. Stages of application